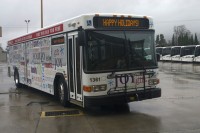 The year may be drawing to a close, but there's still time to enjoy a little extra holiday cheer by climbing aboard AC Transit's Holiday Bus!
As in years past, AC Transit has transformed one bus in their fleet with brightly colored holiday decorations. Each day through January 3, the bus will run along a different route offering free rides to anyone who cares to hop aboard!
"The Holiday Bus is a token of gratitude to our riders," said AC Transit General Manager David Armijo. "It's a small thing but it's a way for us to contribute in this season of sharing, and we intend to do so in hopes of making the season a little brighter for anyone who boards the holiday bus."
Since the Holiday Bus travels a different route each day, you might see it only once, so make sure to hop on board or take a photo!