Biking is inexpensive, reduces traffic congestion, cuts down on emissions, and keeps you active. Plus, we offer incentives for bike commuting.
---
E-bike Rebate Program
Contra Costa residents who purchase an e-bike, e-bike conversion kit, or electric moped can apply for a rebate of $150. Rebates of up to $500 are available for residents with low household incomes. These clean-fuel vehicles provide a great alternative to driving.
Map Your Ride
The 511CC Bike Mapper is a valuable bike trip mapping service. The simple interface generates nine route options for you to pick from when you select from three hill tolerances and three levels of bike infrastructure: adherence to mostly bike paths, bike lanes, or the most direct route. The Contra Costa Bike Mapper covers the majority of the 9-county Bay Area.
Contra Costa Bike Maps can help you plan your route.
Get Rewarded
Drive Less $25 Incentive is available to qualified commuters who make the switch from diving alone to pedal power.
Commute Coach
If you're curious how commuting by bike might save you time or money, ask a 511CC Commute Coach. Give us the basic information about your commute and one of our transportation experts will contact you with customized commute options and information on available incentives. Best of all, the service is completely free.
Regional Bike Events & Local Biking Resources
Looking for a new ride? Check out our calendar of bike rides and regional and local events and find valuable local biking resources. Find casual group rides, bicycle club rides, repair lessons, bike clubs, advocacy groups, and more! And if you happen to know of a bike ride or event we don't have listed, let us know about it! Send the event info to hello@511cc.org.
Park Your Bike
Find secure bike locker parking with our Bike Locker Map.
Almost all BART stations have bike racks and most BART stations have secure bike lockers or a Bike Station. In Contra Costa County, the Pleasant Hill BART Bike Station is directly across from the station's main entrance and provides 24-hour access to secure indoor bike parking. Retail sales and bike repairs are available in the station weekdays from 7am-11am. Access requires a BikeLink card or you can download the app to your phone.
Secure Your Cycle: Free eLocker Parking
Pledge to make more trips by bike and we'll send you a $20 BikeLink card to help you park securely. Located throughout the Bay Area, including dozens of locations in Contra Costa, BikeLink's lockers give you peace of mind when you need to store your bicycle—all at a cost of just pennies an hour.
Summer Bike Challenge
Every summer, 511 Contra Costa provides free, healthy, outdoor fun with the Summer Bike Challenge. People in all 19 cities of Contra Costa County can explore their towns by bike, getting exercise and collecting free stuff in the process. We provide a bingo-style game card with destinations to ride to, so if you're looking for family-friendly summer fun, join us for the Summer Bike Challenge.
Bike/Pedestrian Bridge Access – Get Current Information
Find out if the bike/ped path on the Bay Bridge or Richmond-San Rafael Bridge has any restrictions or scheduled closures by clicking the appropriate button below. (Note: When the Richmond-San Rafael Bridge Path is closed, a free shuttle is provided to get cyclists & their bikes across.)
Free Bicycle Skills Videos
Improve your skills and confidence as a cyclist with our library of free bike skills videos. Learn the basics of bike commuting, how to ride safely in traffic, how to select the right bike and cycling gear, and what your rights are as a cyclist.
Bike to Work Day
Bike to Work Day is an annual event which encourages people to bike to work instead of driving. More than one million Bay Area residents live within five miles of their workplaces – an ideal distance for bicycling.
"Riding my bike has saved me on gasoline, wear and tear on my car, kept me from getting to work late, allowed me to use that time to de-stress, and has given me the opportunity to take care of myself." –Alex
Contra Costa's 2022 Bike Champion of the Year: Najari Smith
Najari started off by joining the Richmond Bicycle Pedestrian Advisory Committee, which advises the city on bicycle and pedestrian infrastructure projects. Soon after he began organizing regular, frequent community bike rides, which he dubbed Rich City Rides and officially established it as a fiscally sponsored non-profit in 2012. The rides are extremely popular in the community and often incorporate an educational aspect and/or community clean-up activities. Rich City Rides also regularly hosts bicycle clinics and repair workshops from the bike hub at Unity Park, a park located on the Richmond Greenway that they proudly helped design and build.
Two years after founding the non-profit, Najari, along with his partners, co-founded the for-profit, worker-owned cooperative Rich City Rides Bike Skate Shop in downtown Richmond. The Bike Shop serves as a community pillar, welcoming youth and families to get everything they need to ride for health, endurance, and commuting while supporting the local economy.
Bikesharing
Bikesharing is ideal for short-distance commute trips and errands. Although not yet available countywide, Richmond, Pleasant Hill, and San Ramon all offer bikeshare programs. Bikeshare is also available in other areas of the Bay. If you commute by BART to Oakland, Berkeley or San Francisco, you can grab a bike to finish your trip or take one for a spin at lunch.
To rent a bike, simply download the app for the bikeshare service you're using and pick up a bicycle from a dedicated station or by locating a dockless bike. Take the bike for a spin and return it within the system's service area.
Bikes on Transit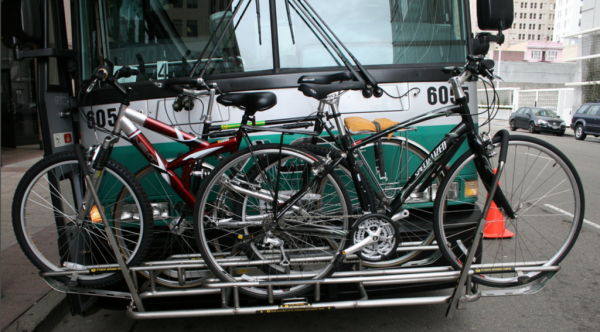 If biking the distance between home and work seems intimidating, it's not cheating to add a bus or BART trip to your commute. Bikes are welcome on BART and on area transit buses.
County Connection, Tri Delta Transit, WestCAT and AC Transit's bicycling pages provide instructions for biking and riding. Find tips for taking your bike on other Bay Area transit buses.
While bikes are allowed on BART at all times, there are rules to be aware of:
Bikes are never allowed on crowded cars
Bikes are not allowed in the first car
Bikes are not allowed in the first three cars during commute hours
Folded bikes are allowed in all cars at all times
Bicyclists must use elevators or stairs, not escalators
To read the full list of rules, visit the Bikes on BART webpage.
Additional Resources for Bike Commuting
Biking News